G.E. blatantly rips off the style and content of Samurai Jack to lure people to its greenwashing site.
G.E.: Ecomagination or just bad conscience?
The company that has brought a lot of bad things to our lives, like inedible fish in the Hudson River. Byproducts of the plastics, aircraft engines, nuclear reactors haunt our environment. No wonder it's trying so hard to convince people it is the knight in shining armor that will take us away from all of our environmental problems (G.E. "Ecomagination" website, not to mention the media spin through NBC, CNBC, Telemundo, and msnbc.com). After years of pressure and litigation, the E.P.A. finally demanded that G.E. pay to dredge the Hudson River to clean up the tons of PCB toxins it dumped into the river. But the cleanup has not started, over two years later. That hasn't stopped G.E. from spending lots of money promoting its questionable environmental credentials.
The videos G.E. has made about solar and wind power technology are enticing. If only their aspirations weren't so low. They
can "imagine" that only "10 to 20 percent" of the electricty we use might come from solar power in the future. Why aim so low? Habit? If G.E. was such an agent of good, would American tax payers have had to spend millions of dollars in legal fees to get the company to comply with the E.P.A.'s mandate that it clean up the PCBs it dumped in the Hudson river? Thanks to hard work, G.E. was forced to disclose that it spent $800 million to delay the cleanup of toxic PCB discharges in New York, Massachusetts and Georgia — money that, with a bit more imagination, it could have used to clean up the Hudson.
Making animals happy
This commercial prompted the following…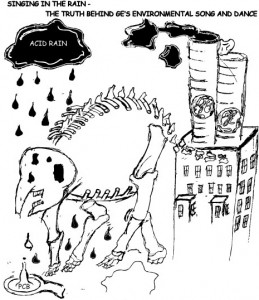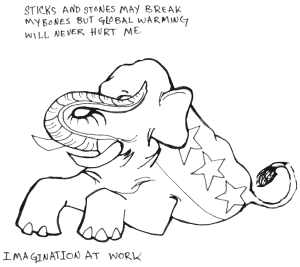 Although it presents itself as being a friend to the environment, G.E. continues to delay removal of PCBs from the Hudson River. In 1977, GE dumped 1.3 million pounds of PCBs into the Fort Edward and Hudson Falls. PCBs are organic and carcinogenic compounds that have been linked to the underdevelopment and damage of embryos and female reproductive systems in females. In males especially, PCB can lead to damage of the stomach, liver and/or thyroid.
Further Reading
* Cleaning up after G.E.
* PCB Article
Tags:
Energy
,
Pollution